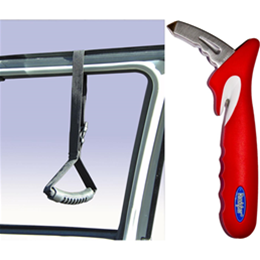 Having trouble getting in and out of your vehicle? This combo pack is the solution! View more
Getting out of your car has never been easier!
---
The Handybar is designed with you in mind. It is a heavy-duty steel support handle with an ergonomic rubber grip to provide support when standing from any vehicle. Just slide the steel end into the locking mechanism or striker of the vehicle door frame, and stand with confidence and safety. It also comes equipped with a window breaker and seat belt cutter for added security in emergency situations. Enjoy peace of mind knowing that you can tackle any curve ball life may throw at you out on the road with the Handybar.
Here's something you can hold on to – The CarCaddie. This portable handle offers stability and ease when getting in or out of a car, van, or truck. It is an excellent tool for people with limited mobility. The CarCaddie has a simple yet effective design and is easy to install. Simply roll down your window and put the end of the CarCaddie strap around the top of the window frame. Snap the buckle in place, adjust the handle height, and roll up the window. It isn't permanently installed and has an adjustable strap, making it easy to carry and use in other vehicles. The CarCaddie strap is made of durable, long-lasting, nylon. The cushion grip provides a comfortable gripping surface. The buckle has an ergonomic design making it easy to open and close. It's a great product for anyone desiring an added level of comfort and ease in their daily routine.
---
Handybar Specifications
| | |
| --- | --- |
| Weight Capacity | 350lbs |
| Car Types | Universal Fit |
CarCaddie Specifications
| | |
| --- | --- |
| Weight Capacity | 250lbs |
| Car Types | Universal Fit |
| Strap Length | 7" - 16" |
| Handle Width | 5" |
Handybar Features:
Protects against falls and makes sitting or standing easy
Universal fit in any vehicle
No-slip ergonomic rubber grip
Seatbelt cutter and window breaker
CarCaddie Features:
Installs and removes in seconds
Universal fit in any vehicle
Sturdy nylon strap
Adjustable length
No-slip rubber contour grip
Customers Who Viewed This Item Also Viewed